How did Separett start? Separett AB has evolved from manufacturing sheet metal details for the automotive industry to becoming a global player in sustainable sanitation solutions. It all began in a small workshop and grew into a global movement in waterless toilets.
1964 – The heart of ERBI in Hyltebruk
It all started with metal, sheet metal details for the automotive industry. In a small village named Hyltebruk, in 1964, a business was founded that would transform the sanitation industry. ERBI AB, under the enthusiastic leadership of director Gerhard Billsund, produced details that would soon pave the way for Separett's journey. Among big names like Volvo and Husqvarna, this was the place where the foundations for Separett AB were laid.
1976 – The vision of waterless toilets is born
In the 1970's, Gerhard Billsund faced a peronal challenge when looking for the perfect toilet for his holiday home. Unable to find what he was looking for, he instead identified a gap in the market for sewage-free toilet solutions that combined sustainability and functionality, a toilet for the Nordic holiday homes. This is where the vision and idea of a waterless toilet and Separett was born.
A waterless toilet – Classic 3000 – saw the light of day and offered a pioneering solution for Nordic holiday homes. A partnership with Husqvarna set the wheels in motion, and the product is proving a success. In 20 years, more than 125,000 toilets are sold, and Separett became synonymous with comfort and durability.
1987 – Generational shift
Mikael Billsund, son of the founder Gerhard Billsund, takes over Separett from his father. With a new CEO came a renewed focus – sustainability and innovative sanitation solutions. The production off car components was sold, and the company now focused solely on developing, producing, and selling waterless toilets for Nordic holiday homes.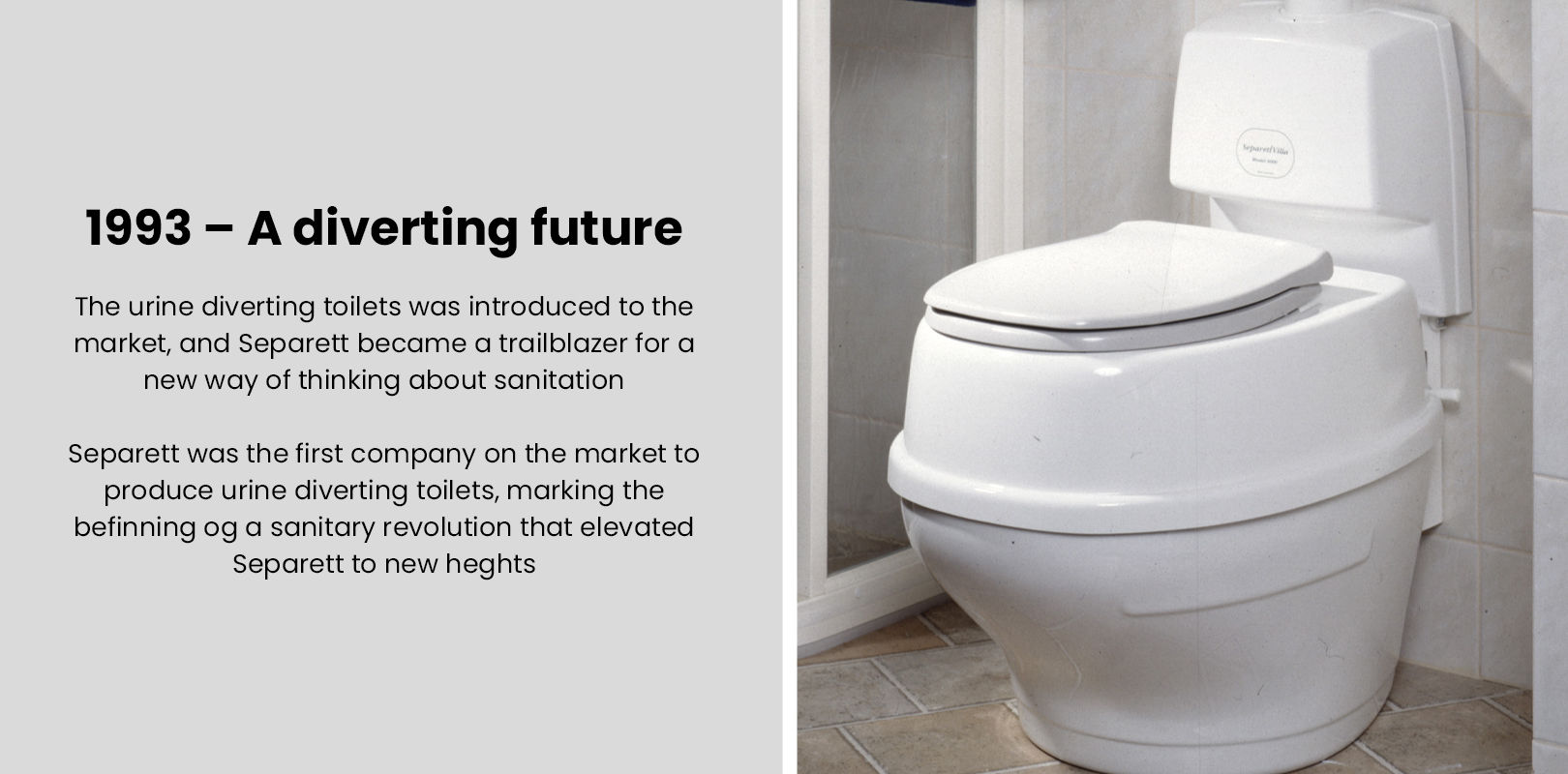 2010s – A growing company
Separett expanded globally at a rapid pace, leading to the relocation of both factory and office to Bredasten, Värnamo. Everything in the company was centralized to this new industrial area: development, production, sales, and administration. Separett's rapist expansion led to a branch in Finland, which is the second-largest market for Separett and growing rapidly. The incinerating toilet was introduced toi the assortment and was an immediate success.
Through partnership with Sanima in Peru and SNV in Bolivia, we offered an opportunity to improve sanitation and hygiene for people in places where it's most needed. For many, having a toilet is taken for granted, but in large parts of the world, there are no sanitation solutions, leading to both disease and vulnerability. Our products become more than just toilets; they become a foundation change.
2020s – A new chapter
In a short time, significant development and change occurred within the company. Separett gained two new shareholders, Jyri Frantzi and Kevin Billsund, who own Separett AB together with CEO Mikael Billsund. A strong interest in Separett's toilet solutions increased in the US market along with the Tiny House movement, and as a result, the US has become one of the largest markets for Separett. This led to Separett opening a subsidiary in Las Vegas.
Separett focuses on the German market and enters a centrally located industrial and exhibition site in the heart of Europe - Hannover. Separett GmbH opens. Separett grows not only as a global company but also in its commitment to sustainability and global impact.
In 2023, Separett's CEO Mikael Billsund retires and sells his share of the company. Separett AB becomes part of the Lundahl & Hall group, and the doors to an even greater future open. We look forward to continuing our journey and together writing a future that is as sustainable as it is inspiring.